#1 Best Voip For Wifi Calling & Texting
Upgrade your business phone lines into one voip system for better data logging, detailed call analytics and faster outreach times.
Trusted by businesses worldwide to improve communications
Call and Text Directly Through Your CRM and Project Management Software
Improve Communications With Voip Calling & Texting
Improve business communications with VoIP technology. Enjoy cost savings, better call quality, and advanced features like call recording, call forwarding, texting, skipping to next lead or phone number, leaving pre-recorded messages on voicemails, and virtual phone numbers, improving overall communication capabilities saving time and increasing efficiency.
Increase Outbound Calls With Auto Dialer For Increase Performance
Improve business communications by automatically skipping busy lines and leaving pre-recorded messages on voicemails, saving time and increasing efficiency. This feature also ensures that all leads are contacted promptly, improving customer response rates and overall sales.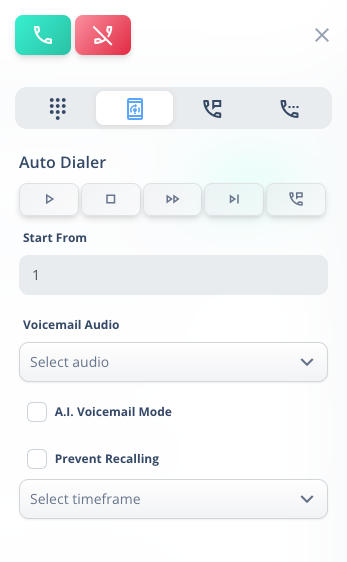 Move Faster With A.I. Voicemail Machine Detection
Increase sales volume with the help of our AI voicemail detection that can handle up to 30 calls per second. AI will detect whether a human or voicemail greeting is on the other line so caller can take action accordingly to outpace competition, improve efficiency and ultimately generate more revenues to your business.
Save More Time With Inbound Call Automations
Create automations to update status and inbound call redirects of leads in CRM to improve business operations and save time and increase efficiency. Inbound automations ensure that incoming calls are redirected to the right team member and that the lead's status is updated in real-time, allowing for better communication and collaboration between team members and providing a more seamless customer experience.
Detailed Call Analytics For Better Customer Insights
With VoIP integrated into CRM, you can gather valuable customer insights during calls, including call duration, call recordings, call and text history and notes from the call. This information can be used to personalize follow-up calls and improve customer engagement, increasing the likelihood of closing deals.
Get More Than A Voip Phone System With Halsell
We push feature updates and deployments weekly with many new products on the horizon
Customer Relationship Management
Manage large complex data sets with custom fields for more flexibility
Project Management
Manage project and task deadlines in a goal oriented manner
Assignments
Assign leads to a single member or entire team to help stay organized like never before
Roles & Permissions
Create roles and permissions to grant or restrict access for each individual team member
Start & Due Dates
Stay on schedule with start and due date reminders to keep track of leads
Custom Fields
Customize your deal board with custom fields
Electronic Signature
Create, send and track electronic signature requests sent to clients
Calling & Texting
Make calls and text clients directly in your CRM for a more streamlined workflow
AI Auto Dialer
Achieve more by letting our AI do the heavy lifting for you to power dial sales leads
Custom Labels
Create colored labels to specify the priority or status of your lead
Contacts
Stay organizated with contacts and business relationships all in one place
Custom Branding
Personalize your workspace with your own company branding to feel right at home
See Other Features That Halsell Has To Offer
Stay in touch to be in the know
Receive the latest updates, articles and promos sent to your inbox weekly!
Get Started With The Worlds Best Voip Software
Sign up today for free - no credit card required